Hi-TEK, INC. to showcase online travel reservations network to promote VietNam tourism worldwide at the Vietnam International Travel Mart (VITM) 2018
(Hanoi) - From March 29, 2018 to April 1, 2018, HI-TEK, Inc. (HI-TEK) will attend Vietnam International Tourism Fair VITM 2018 to promote Vietnam travel and tourism worldwide via secure One-Stop-Shopping reservation and visa registration websites: www.Travel.VN, www.Hotels.VN, and www.VietnameseVisa.com. The Company's unique PreBook.com Membership Travel website offers members globally discount bookings for airlines, hotels, cruises, car rentals, entertainment services, tour activities, etc…
Currently, HI-TEK's travel and visa registration websites have the most competitive pricing compared to other Online Travel Agencies (OTAs) booking systems. The Company offers lowest price guarantee policy; if any customers find lower prices for the same travel services offered on the Internet, HI-TEK will refund the difference.                   
According to the statistics of Vietnam National Administration of Tourism (VNAT), the number of international visitors visiting Vietnam in 2017 has grown to over 12.9 million visitors for the first time. The number of Vietnamese tourists traveling within the country and abroad also grew to a record of 62 million. Total tourism revenue is estimated at 461 trillion VND (about $19 billion USD).
Vietnam ranks 17th highest internet penetration country in the world with over 53%. "Travel Online, Moving Vietnam Tourism towards 4.0 Technology", is the theme of this year's Travel Show.
HI-TEK, Inc., headquartered in the United States and established in 1995, has extensive experience in the fields of secure electronic commerce, information technology, and Internet and tourism services. HI-TEK has implemented Blockchain 4.0 technology to successfully launch www.Travel.VN and www.Hotels.VN online travel booking and reservation portals capable of connecting to more than 800,000 hotels, providing over 150,000 flights worldwide with favorable rates.
In addition, the Company offers special hotel rates that members can save up to 70% at www.PreBook.com. The highlight of this One-Stop-Shopping system is that HI-TEK also provides online visa application/registration services to Vietnam; processing visa application and issuance is simple, fast, secure and inexpensive at www.VietnameseVisa.com. Furthermore, HI-TEK headquarters in San Diego, USA, provides Vietnamese visa and all others Consulate services (ex: register or renew Vietnamese passports, marriage registration, certification, Legal of US documents...)  authorized by the Vietnamese Consulate for the Southern California community.
In the first quarter of 2018, the Company has successfully built a secure electronic payment blockchain system (crypto voucher) to advance the online application of technology 4.0, reducing the intermediary costs and maximizing values for tourists worldwide.
HI-TEK is honored to be chosen as the Bronze Sponsor for all activities of Online Travel during the Vietnam International Tourism Fair VITM Hanoi 2018 at the Vietnam-Soviet Friendship Cultural Palace, 91 Tran Hung Dao, Hanoi.
HI-TEK will exhibit at BOOTH A118 at the Online Travel Center. The Company will be presenting special gifts for all visiting the booth, including special membership privileges, use travel reservation system to book airline tickets, hotel bookings and many other services duration of the fair.
The Company will participate in the seminar "Traveling Online - The Inevitable Trend of Tourism in Vietnam". It will take place in the Big Hall of Friendship, Viet Xo Friendship from 13:00 to 17:00 on March 29, 2018. This is the most important and informative seminar at VITM 2018. About 1,000 participants are expected to attend this forum, including leaders of tourism and information technology businesses, people interested in online travel and students of tourism departments. The seminar is divided into two parts, organized in the form of round table discussions:
+ Session 1: Challenges from the Explosion of Online Travel
+ Session 2: Business Travel in the Digital Age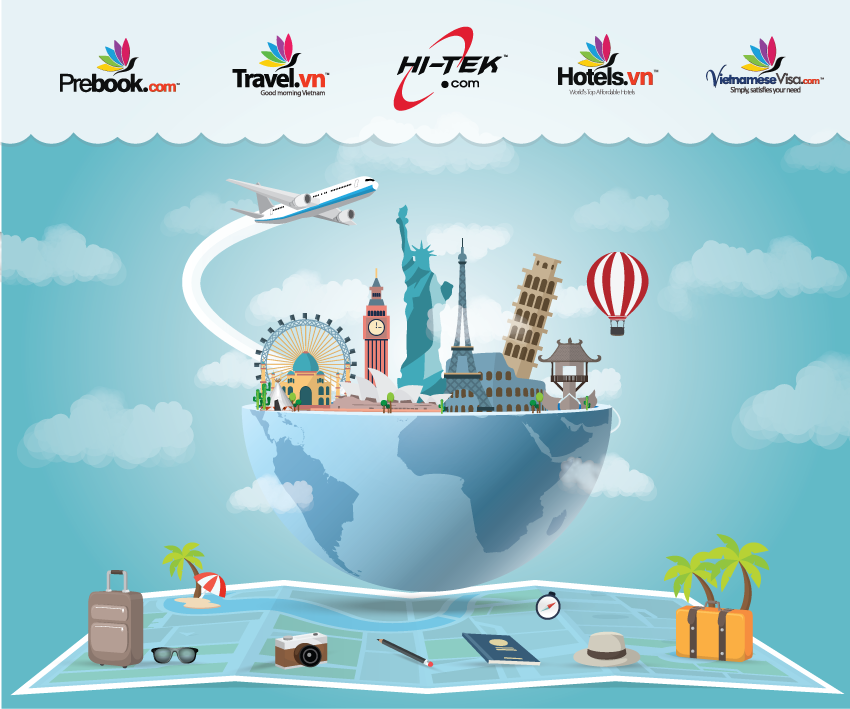 HI-TEK would like to invite all customers, partners, press and media to attend this event. The programs include: Tourism Promotion Seminar, Travel Law Introductory Seminar, Creative dialogs for the Vietnam Tour Guide Association; Forum to start tourism towards contributing to the development of tourism in Vietnam in the digital era.
About HI-TEK, Inc.:
HI-TEK, Inc. (www.HI-TEK.com) is a U.S. company with offices in San Diego, California; Ho Chi Minh City, and Hanoi, Vietnam and Vientiane, Laos. HI-TEK'S intuitive, secured online Travel Blockchain 4.0 e-commerce platform, with multiple languages ​​and easy to use, offers business and leisure customers worldwide to receive the best reservation prices for flights, hotels, entertainment services and package tours.
Also, HI-TEK provides advanced Application Program Interface (API) as a direct connection tools for travel agents around the world to link optimally to the HI-TEK booking systems. This secure online reservation system assures the retail dealers to better service their travelers, ensuring high productivity and greater customer satisfaction.
Award Recognitions & Contributions:
Dr. Lee Johnson, President of HI-TEK, was awarded with special recognitions by the Prime Minister of Vietnam for "Achievements in Internet Development in Vietnam and Contribution to the Cause of Socio-Economic Development ". This was the first time that this honor was awarded to a foreigner, at a state awards ceremony in Hanoi, on July 22, 2011.
On March 20, 2008, the Ministry of Foreign Affairs of Vietnam honored Dr. Lee Johnson in a state award ceremony for "Contributing to the Development of IT in Vietnam."
On January 26, 2007, the Ministry of Posts and Telematics (MPT) of the Ministry of Information and Communications (MIC) also acknowledged the work of Dr. Lee Johnson and presented him with a Certificate of Merit, "Contributing to the Development of the Internet in Vietnam".
Research information about the online travel market:
Research published by Google and Temasek show the Southeast Asian Internet economy is growing dramatically, that the online travel is ranked third in terms of growth and revenue contribution. Accordingly, the annual growth rate of CARG from 2015 to 2025 is 15% per year, with e-commerce at 32% and online advertising at 18%.
According to the study, Vietnam's online travel market (both hotel and airfares) will reach US $2.2 billion by 2015 (higher than the Philippines with US $1.1 billion) and over $9 billion by 2025. This shows that the residual area to OTA channel development is quite large.
Internet booking trends have generally grown year by year and contributed significantly to the revenue of residential properties. Survey of hotel services in 2016 by Grant Thornton Vietnam shows that compared to 2014, the proportion of revenue from direct booking as well as travel companies, tour operators are down about 5%.
A portion of this reduction was transferred to the online booking channel. Sales of online bookings accounted for 21.9% (the rest was through other channels). Revenue shifting to online booking channels may become more pronounced in the coming years, said Grant Thornton Vietnam.
At present, overseas OTAs are still operating effectively in the online travel market in Vietnam, such as the "giant" Expedia and the Priceline Group (agoda.com, booking.com). The market also has the participation of Tripadvisor, Airbnb, etc… while the "local" player is developing some online booking business such as Gotadi, Ivivu, Chudu24.
For more information please contact:
HI-TEK, Inc.
- Annie Ung - Deputy Director,
- Email: Annie@HI-TEK.com
- Website: www.HI-TEK.com